GeoBuiz 2018 Report
Geospatial Industry Outlook and Readiness Index
Geospatial Media & Communications presents the 2nd edition of the comprehensive report which is a collective, harmonized and in-depth analysis of the geospatial industry covering technologies, infrastructure, policies, drivers, users, challenges, trends and innovations.
DOWNLOAD Your Complimentary COPY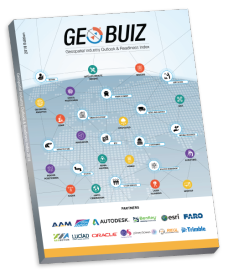 Key aspects of GeoBuiz 2018 Report
Global Geospatial Industry Outlook
Derived from over 500 industry survey responses and interviews, analysis of more than 1,500 press releases in last 5 years, this section presents:
Industry composition, digital ecosystem and emerging business models
Global and regional market size and forecast
Industry drivers, user benefits and challenges
Impact value, recent trends and innovations
Countries Geospatial Readiness Index (CGRI)
The 50 countries covered under CGRI together represent 90% or the world population and share 89% for the global GDP. The section covers
Indexing framework
Comparative readiness assessment and ranking
Readiness matrix of 50 countries
Industry Segments Analyzed:
GNSS & Positioning
GIS & Spatial Analytics
Earth Observation
3D Scanning
Geographies covered:
North America
Europe
Asia Pacific
South America
Middle East
Africa
User Segments captured:
Defense and Internal Security
Infrastructure
Urban Development
Utilities
Retail and Logistics
Agriculture
BFSI
Disaster Management
Citizen Services
Natural Resources
The global geospatial market size stands at nearly US$ 300 billion, and is likely to touch 440 billion by 2020.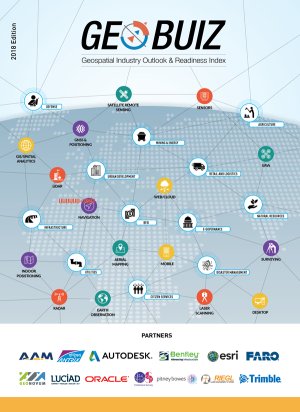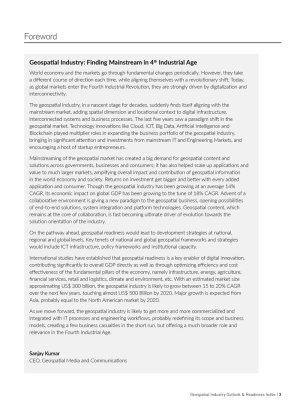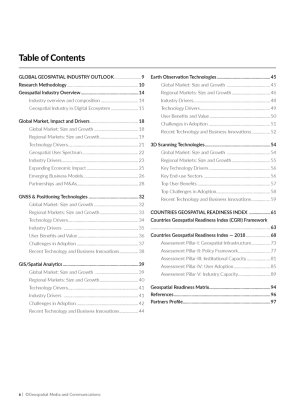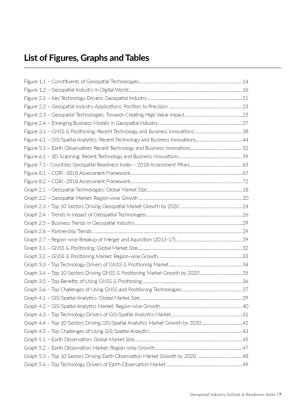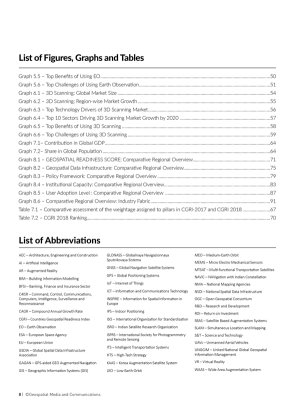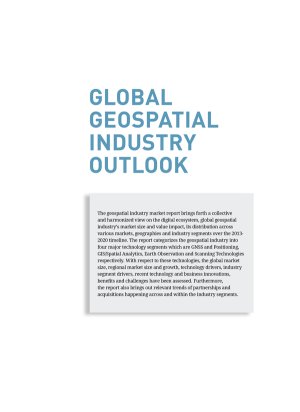 Key Findings
During 2013 to 2017, the market grew at an estimated 11.5%, and is forecast to grow at CAGR of 13.6% between 2017-2020
Impact of geospatial industry has grown at an even higher rate (21%) indicating the multiplier effect of the geospatial technologies on the economy and the society
Big data, cloud computing and artificial intelligence are seen as the most significant drivers for the geospatial industry
Driven largely by sharp expansion of the user base, Asia pacific is expected to edge out North America as the largest market region with a market share of 32.6% by 2020
The Countries Geospatial Readiness ranking is led by the USA, followed by the UK, Germany, Singapore and the Netherlands being ranked 2nd, 3rd, 4th and 5th respectively
The industry in China and India is continuing to expand due to an exponential rise in the number of technical and scientific research centers, aero-space domain strengths and national programs for startups